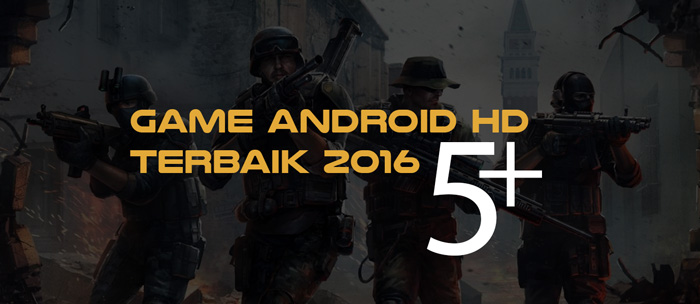 Sudah menjadi keinginan setiap gamers untuk bermain game dengan kualitas grafis yang baik karena hal itu akan menambah keseruan saat bermain game. Membahas soal grafis game, apakah gamers tau game dengan grafis terbaik di android? Pada kesempatan kali ini rajagamers bakalan memberitahu kalian tentang Game Android dengan grafis HD terbaik di tahun 2016.
Game Android Dengan Grafis HD Terbaik 2016
1. Walking War Robot
Walking War Robot adalah game action dengan grafis HD yang memukau dengan mengombinasikan gameplay pertempuran online-multiplayer dengan tema robot mech. Game ini menekankan faktor aksi yang dinamis, cepat, dan meledak-ledak.
Kalian akan bertempur sebagai tim, 6 vs 6. Tugas tim kamu adalah menguasai setiap titik strategis yang ada di sekitar arena sekaligus menggempur balik serangan dari tim lawan.
War Robots Multiplayer Battles (Free+, Google Play) →
2. Vainglory
Game multiplayer online battle arena atau biasa disingkat MOBA yang mirip dengan game Dota 2 ini memang menjadi game HD dengan gameplay terbaik sekaligus menjadi penguasa MOBA di platform mobile. Vainglory juga mengusung pertarungan PvP dengan objektif menghancurkan sebuah bangunan yang disebut Vain Crystal di base tim lawan.
Di sana kamu akan berperan sebagai hero di dalam tim yang terdiri dari tiga orang. Setiap hero memiliki kemampuan dan karakteristik yang berbeda sehingga diperlukan strategi dan koordinasi yang tepat untuk dapat menghancurkan lawan.
Vainglory (Free+, Google Play) →
3. Godfire: Rise of Prometheus
Godfire: Rise of Prometheus memiliki gameplay hack-and-slash dengan grafis yang mantap, di mana terdapat kontrol virtual joystick untuk menghabisi musuh-musuh yang kamu temui di sepanjang perjalanan. Terdapat story mode dengan tiga buah chapter di mana bagian kedua dan ketiga bisa kamu beli menggunakan in-game credit.
Godfire bercerita tentang mitologi Prometheus, seorang Titan yang mengambil api abadi Zeus dengan tujuan membaginya dengan manusia. Tetapi di saat kamu sudah berhasil mengambil api abadi (godfire spark), benda ini malah terjatuh di dunia dan kamu harus bertualang sebagai Prometheus untuk mencari godfire spark dan memberikannya kepada manusia.
Godfire: Rise of Prometheus (Free+, Google Play) →
4. Dead Effect 2
Dead Effect 2 merupakan game bertema horor luar angkasa yang menghadirkan elemen naratif dan gameplay FPS yang dilengkapi fitur kustomisasi layaknya RPG. Game HD Android terbaik ini pun menghadirkan kengerian yang mencekam sekaligus keseruan ketika kamu berhadapan dengan makhluk mengerikan dan mematikan lainnya di luar angkasa.
Dalam game ini, gamers akan diajak mengarungi gelapnya kapal angkasa ESS Meridian yang menjadi latar dari Dead Effect pertama, kamu bisa bersenang-senang dengan campaign dan misi sampingan yang berdurasi hingga 30 jam lebih.
Dead Effect 2 (Free+, Google Play) →
5. Dungeon Hunter 5
Pastinya gamers nggak asing dengan game Dungeon Hunter besutan Gameloft yang kini sudah mencapai seri kelima. Di judul terbaru Dungeon Hunter 5, mengusung elemen player raid, kamu akan bersaing merampok Dungeon pemain lainnya secara asynchronous.
Disini gamers akan dimanjakan dengan kualitas grafis yang sangat memukau. Kamu bisa menyerang Dungeon pemain lain untuk mengambil beberapa porsi dari emas yang mereka dapatkan.
Dungeon Hunter 5 – Action RPG (Free+, Google Play) →
6. Chaos Rings III
Kualitas visual luar biasa yang ditampilkan dalam Chaos Rings III membuat game besutan Square Enix ini masuk dalam jajaran game Android dengan grafis terbaik 2016 dengan lingkungan full 3D.
Chaos Rings III bercerita tentang perjalanan seorang pemuda bernama Nasca yang melanjutkan cita-cita mendiang ayahnya yakni menjadi seorang penjelajah. Nasca akhirnya pergi ke kota untuk mengikuti tes, di situ ia bertemu dengan Daisuke dan Leary. Ketiga remaja tersebut akhirnya membentuk satu tim penjelajah. Saat itulah petualangan mereka di Chaos Rings III dimulai.
CHAOS RINGS Ⅲ ($19.99, Google Play) →
7. Mortal Kombat X
Gamers semua pastinya tau dong dengan Mortal Kombat X ini. Jangan berpikir kalau Mortal Kombat X itu hanya bisa dimainkan di PC dan console lho, game ini juga dapat dimainkan di Android. Karena grafis dan efeknya yang top, game ini jadi game yang paling seru dan layak masuk sebagai game android dengan grafis terbaik 2016.
MORTAL KOMBAT (Free+, Google Play) →
Sampai disini dulu daftar game Android terbaik 2016  dengan grafis yang memukau. Jika kamu punya game lainnya, tinggalkan komentarmu pada kolom komentar di bawah ya.
The post 5+ Game Android Dengan Grafis HD Terbaik 2016 appeared first on Rajagamers | Berita Esports, eSports Indonesia, IeSPA, Info Game Terbaru.